Service contract negotiation is kind of an art form. As a fluid process, there is no standard procedure, even within a single health care institution. Rather, each transaction takes on a different shape depending on a number of factors, including—but not limited to—parts availability, in-house skills and expertise, service history, and how many pieces of equipment will be included in the order.
Yet, while there may not be a set "how-to" guide on attaining the most favorable service contract, organizations can adopt best practices to ensure they come to the table prepared.
Keys to Cost-Effectiveness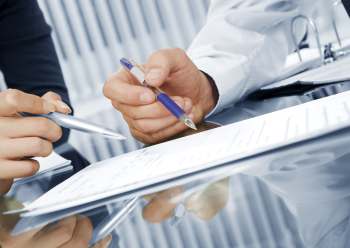 Starting the contract negotiations process early enables organizations to read through contractual language in a meticulous manner. That way, hospitals can determine whether a vendor includes or excludes important items.
EMH Elyria Medical Center, in Elyria, Ohio, manages 100 contracts, mostly for higher-modality imaging and lab processing systems in addition to general biomed items. "We pretty much use our entire palette of colors: everything from parts only, to PM contracts, to full service," says David Mann, manager of clinical engineering. "But my contract of choice is the shared service or the partnership agreement. If there's anything we've really done well here, it's the partnership agreement on a lot of our imaging systems."
For example, the hospital's imaging systems, such as ultrasound machines, have two PMs a year—one handled by the vendor, and one by the in-house team. On service calls, the hospital's imaging person, who is factory trained, is responsible for the first look. "If there isn't anything he can reasonably resolve in an expedient manner, then the vendor comes down," Mann says. "So everybody wins on those. Not only are those less expensive contracts, but the vendor is not sending out valuable field service talent to do minor repairs."
In order to determine what kind of contract to put into place, it is important to understand all the costs involved, such as labor, travel, and parts, and the kind of service history available on this piece of equipment, according to Eliezer Kotapuri, CCE, PEng, director of clinical technology planning for ISS Solutions, owned by Geisinger Health System, in Danville, Pa. As such, Kotapuri works throughout the entire health system, which operates a number of facilities in central and northeastern Pennsylvania. "Every time a service representative comes from another town, we have to pay for travel, plus labor, plus parts," he says. "This is despite us as a hospital losing revenue due to downtime. Though we cannot avoid the cost of parts and labor, we certainly can in regard to travel. We have to consider how much travel costs we are paying to the vendor and the impact of this on the total cost of ownership. So the service contract, in my opinion, is only an insurance program, and it's not the actual cost of service."
Parkland Health and Hospital System in Dallas is currently in the process of moving to a new site across the street. During this transitional period, Tom Collins, director of clinical engineering and biomedical services, is working closely with his staff to reduce contracts and build savings.
"Our goal is to eliminate or to make contracts as cost-productive as possible," Collins says. "On higher-end imaging equipment, we perform first look. It's a partnership with the vendor where we can reduce the cost of the contract, and we can produce faster service with our end users—the clinical staff. Also, through our partnership with the OEM, we get the best deal for the part and tie into their technical expertise in providing the front-line service."
Together with his clinical engineering team, Collins is working on setting up contracts for the new hospital. "We are going through an extensive equipment planning process to determine what equipment will be moved from here to the new hospital and what equipment will have to be purchased new," he says. "As part of the RFP [request for proposal] process, we are looking at negotiating service contracts where needed up front at the time of purchase. We want to analyze service and parts offerings from vendors when we are in a position of strength, with purchasing as much equipment as we will be for the new hospital."
Collins' colleague Matt Wied, a clinical engineer newly hired at the organization, noted that many contracts he has come across during his review have been year-to-year agreements. Weid says he has therefore contacted vendors and requested contract extensions. For example, instead of an annual term, contracts should be in place for a minimum of 3 years with a 30- to 60-day out-clause, in case equipment is upgraded or removed. "We usually can get a 7% to 15% price discount, depending on the vendor," Wied says. "For the new hospital, we are trying to buy contracts for the life of the equipment. If something lasts 7 years, we'll try to get a 7-year contract with the same out-clause."
For Collins, a win-win contract is not a mere fantasy, but instead a goal that can be accomplished—with the right strategies. "You have to be able to negotiate from a position of strength and know your options," he says. "You need to build a strong in-house team that at a minimum can do first look, and if necessary can go even further than that. You also must realize there are other options out there such as multivendor options and third parties. With in-house and third-party options, you have a lot more strength in negotiating a good deal with the vendor. The best deal is the win-win situation. It has to be a win for you and for the vendor, so that 2 years down the road, neither one of you are regretting the deal."
Vendor Relationships
Collins' and Wied's co-worker Gregory Stett, a clinical engineer, cautions against seeking exceptionally long contracts with vendors but acknowledges it may make sense in certain situations. In those cases, it is essential to write an annual review into the contract. For instance, if a hospital is not satisfied with a service provider's performance in year 1 of a 5-year contract, it needs to have the ability to challenge the vendor. Stett offers questions to consider in an annual review: "Are we happy with the service? Are we missing certain things? Are they not giving us the documentation we need or the history of what has been done to it? You need to reassess the service, and perhaps that contract will need to be modified a little bit for year 2."
Kotapuri agrees, saying that in identifying and selecting the best service provider, organizations should take steps to learn about the actual support people—that is, the primary and the secondary representatives, as opposed to the sales representative. "What kind of training do they have or go through?" he asks. "Are they capable of delivering the service being promised? Also, proximity, or location of the service representative and the geographic area the service representative is responsible for, are very important factors in purchasing or choosing the service provider."
Kotapuri also points out that it is important to consider accessibility to parts. "Sometimes we choose the OEM, sometimes we might go to another service provider or may even consider bringing the service in-house," he says. "We look at cost savings, cost avoidance, and loss in revenue because of downtime or wait time. At the same time, we focus on quality, making sure it is not compromised."
Mann understands firsthand how vendors sometimes fall short of meeting certain expectations. He recalls how a company that had once serviced his hospital's CT scanners changed its service region, resulting in a new field service technician who Mann and his team felt was subpar. In contract negotiations during the renewal process, his team reported its concerns to the vendor and asked that the previous technician handle service. "They just wouldn't do it," Mann says. "They were very confident that they had us all sewn up, and that we would just renew and learn to live with this individual. I brought in another vendor, and we ended up changing vendors. It turned out to be a great success story for us because this new vendor wanted our business so bad that they made across-the-board concessions on their entire suite of contracts here. It saved us $80,000 a year."
Frequently, open and honest communication plays an integral role in determining the success of a particular negotiation. "It all hinges around communication," says Bill Malin, purchasing operations manager at EMH Elyria Medical Center and Mann's colleague. "We've been honest with our vendors, we've told them our needs, and we've talked about the situation today in health care. At the end of the day, what we're willing to do is commit to longer-term contracts that work for us. Instead of negotiating every year, we negotiate once every 3 years. That vendor feels comfortable that he does not have to continually worry about losing our business. By sitting down at the table with the vendor, we've been very successful on multiple contracts in terms of blending them together and co-terming them."
Wied says his team's practice at Parkland is to bring in vendors, sit down with them, and candidly explain their needs. "There is a two-way street there, and once they understand what we need, we use the leverage that we have to get the best contract," he says.
For example, in a recent successful negotiation, Wied and his team negotiated with a vendor with whom they had a long agreement. "We ended up renegotiating another long-term agreement because the service was good," he says. "It made sense for us to have our magnets under full coverage, and with the bundling that we did with our cath labs and digital x-ray rooms, we got better pricing."
Technology Matters
What is the best leverage an organization can use during a negotiation? "In my opinion, data, data, data," Kotapuri says, adding that reviewing service history and performing analysis prior to contract renewals and purchases is crucial. "Do not deprive yourself of data. Data cannot be collected right then and there. In essence, data collected retrospectively has a greater chance of being inaccurate. Data should always be collected when events occur and over a period of time. This is a dynamic process. The value of what is collected today may not be fully known today, but it will be useful sometime down the line."
Stett also points out that it is important to always have access to quantitative information. "If we have somebody outside the organization servicing our equipment, but we have the responsibility to maintain the history of what has been done to that equipment, then we need to be sure that the vendor will provide all service monitoring they do, or at least provide access to their computerized system," he says.
Furthermore, in today's electronic age, technology can play a role in organizing agreements so that personnel is informed of an upcoming expiration well ahead of time. "I would advise on having a good form of electronic tracking of these contracts," Stett says. "Four months before it is due, the system should alert you. The worst thing you can do is have someone manage your contracts by keeping them in a metal file drawer."
Malin agrees, saying that his hospital is equipped with a very effective database. "The contract manager is really a robust piece of software that is built into our purchasing software from McKesson," he says. "We can send a notice at any time to as many people as we want, and it really works. In an ideal world, if we decide to renew the contract, it's done before the contract expires. It's really a fairly fluid process."
Words of Advice
For his peers who are entering into their own contract negotiations and want to improve their individual skills, Collins offers some simple, but useful, advice. "Start early," he says. "If you're waiting until the last minute, you're up against a time crunch. Do your homework, and stick to your guns."
Starting the process earlier also enables organizations to read through contractual language in a meticulous manner. That way, hospitals can determine whether a vendor includes or excludes certain items, such as glassware in its downtime, for example.
"You have to look at the fine print," Stett says. "Be sure that, on the contract, if you add two infusion pumps or take two away they won't change the price on you. I try to avoid automatic renewal. Look at the contractual language, or the next thing you know, you've signed up for another 2 years and you don't even know it."
Those involved in contract negotiations should also understand that it is a team effort and try to incorporate the needs of the clinician, according to Mann. "They are often not involved in direct negotiations, but I definitely need to know what they need in terms of uptime, what their service expectations are, and if we can provide those in-house or if we need to go to outside vendors," he says. "That's where my biomeds are of so much value to me. They are the conduit between me and the end users."
Lastly, realize that each negotiation is a learning process, one that can only serve to prepare you for future transactions. "From negotiation to formulation, execution, and through evaluation, after a piece of equipment was purchased, we always like to look at how the process went so we can learn the lessons for the future," Kotapuri says.
---
Elaine Sanchez Wilson is a contributing writer for 24×7. For more information, contact .