Although Maull Biomedical Training, LLC, only came on the scene nine years ago, its founder is an industry veteran. Below, Maull Biomedical President Steve Maull sits down with 24×7 Magazine to discuss how the field has changed since he started his career in the early '90s and what he wants to tell HTM newbies. Don't miss out.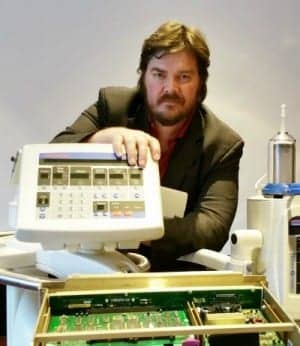 24×7 Magazine: You've been in the biomed field for more than 25 years. What are some key changes you've witnessed in the past two decades?
Steve Maull: I became a BMET in the U.S. Air Force in 1991—and although a great deal of equipment was microprocessor-driven at that time, not much of it was connected to the hospital network. So, back then, learning about networking wasn't really needed. These days, however, having at least a basic understanding of networking is practically a necessity."
24×7: A lot of people in HTM have talked about widespread program closures. As an educator, what is your response to this?
Maull: For whatever reason, our industry still has an awareness problem. Kids coming out of high school and going into college (or the military) are often unaware of this career field. Literally, the day I became a BMET in the Air Force was the first time I had ever heard of it!
Several years ago, Money magazine called this profession "one of the top five jobs you've never heard of," and we are still suffering from that. In the past year, DeVry University drastically reduced the number of campuses where they offer their biomedical engineering degrees, and numerous other colleges across the country have severely cut back or eliminated their programs due to a lack of enrollment.
I believe that if we are going to increase awareness, our best chance is to have state biomedical societies contact local high schools and tout the benefits of this great career. For one thing, you don't even need a bachelor's degree to get into this field; many companies and hospitals will hire someone with an associate's in electronics. The combination of opportunity (BMETs are needed everywhere!) and pay are tremendous compared to other careers you get into with just an associate's degree.
24×7: Can you please talk a little bit about your contrast-injector service training program?
Maull: I formed Maull Biomedical in 2008 after noticing the industry had a need and desire for maintenance training on contrast injectors, and none existed at the time. We train BMETs, both in-house and third-party, on the operation and maintenance of contrast injectors manufactured by Bayer/Medrad and Covidien/Liebel-Flarsheim.
Our training and preventive maintenance (PM) procedures are software-based with extensive video support, meaning that even if the student goes months after training without seeing an injector or a long time between PMs, the videos make it easy to remember the procedures. Although we conduct most of our classes in Aurora, Ohio, we also provide on-site training for groups of five or more; we typically hold 16 to 18 classes a year. And we have recently added the Mark 7 Arterion to our library of injector models available for training.
24×7: When evaluating training programs, what are some key things HTM professionals should consider?
Maull: When evaluating a training program, the two things that you should really look at are the quality of the training and the cost savings the training will provide versus keeping the equipment on a service contract. As far as the quality of the training program goes, it's pretty easy to find out who knows what they are talking about and who doesn't. After all, there are numerous online forums dedicated to all things BMET, where you can ask the community if a particular training program is any good.
As far as evaluating the worth of training, the BMET department needs to compare the cost of a service contract against the cost of training. Other things you'll also want to look at are post-training tech support: Do they provide tools—or at least a source for the tools? And, if applicable, do they have a source for parts and PM kits?
24×7: What advice do you have for the next generation of HTM professionals?
Maull: Whenever I meet new BMETs or college students at medical conferences, I always tell them the same thing: "It's just as important to fix the customer as it is to fix the equipment." You may have been trained on how to work on equipment, but whether you realize it or not, you are in the people business. You need to work on your people skills; smile, be positive, make eye contact, give more than one-word answers, and look and sound professional.