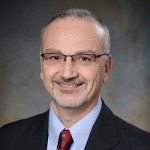 On February 25, Carestream Health, Rochester, NY, announced that Ted Taccardi has been appointed vice president for a brand-new Global Customer Care group.
According to the company, its newly formed Global Customer Care organization brings together all of the imaging company's field support, remote, and platform teams that service equipment, software and healthcare IT systems.
Previously, Taccardi was chief operating officer of Digital Medical Solutions and chief technical officer of Digital Capture Solutions at Carestream, where he managed global manufacturing and product development and oversaw operations in the United States, Europe, Asia, and the Middle East.
Prior to that, Taccardi was general manager of Computed Radiography at Eastman Kodak Company. He joined Kodak in 1981 and served in a variety of business, engineering, and manufacturing leadership positions. He holds a BS degree in Chemical Engineering from the University of Connecticut and completed a Wharton Executive Education program at the University of Pennsylvania.