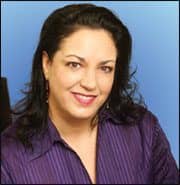 Julie Kirst, Editor
By now, you've probably settled back into a modicum of routine after the holidays—the parties are over, resolutions have been made, and you're back to work. If you took time off, it's possible you spent a little of that time contemplating your next personal and professional steps for 2008. Most likely those steps incorporate overcoming challenges and focusing on growth.
In December, a number of shows on the PBS channel focused on the latest scientific revelations for staying younger. For instance, scientists have recently discovered that, contrary to long-held beliefs, it is possible to renew the brain. According to Arthur Toga, PhD, professor, UCLA laboratory of neuro imaging, department of neurology, Los Angeles, our brain's degeneration and renewal is affected by heredity and environment. Toga says that while we can't do anything about heredity, we can influence our environment by staying active and exercising our brain just as we do our body to slow its degenerative loss.
Each year, most of us make resolutions we don't stay with. However, a resolution to expand our knowledge may be easier to keep, because it has multiple benefits—the first being that we use our brain, which keeps it younger.
On a professional level, if your resolution is to get training in a new area or become certified, or become more active in industry associations and groups, you will also contribute to growth within your workplace by sharing your newfound knowledge with co-workers.
According to Stephen R. Covey, PhD, author of 7 Habits of Highly Effective People, a prioritized list will help you reach your goals, but to begin with, it is up to you to make a plan. Be proactive, Covey advises, because what you want won't simply come to you without effort on your part. Make your start with the end in mind by making a personal mission statement, which is your plan for success.
"Put first things first," Covey says, and think win-win, which involves seeing life as a cooperative arena, not a competitive one. He also promotes communication as the most important skill in life; creative cooperation in the form of teamwork; and a balanced program for self-renewal.
For 24×7, our goals for 2008 are to:
Continue learning about the issues that impact your work and challenge your productivity;
Provide articles that address these topics and offer suggestions and resources for surmounting obstacles; and
Continue expanding our online commitment to provide relevant news, information, and learning experiences that help you take your career to the next level.
Lifelong learning stimulates our brain and improves our life and work environments. A commitment to it is a resolution we can all get behind. Wishing you a healthy and prosperous 2008.
Julie Kirst