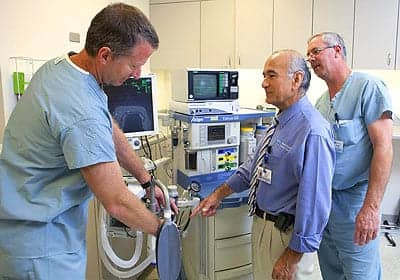 Lead Technician Rafael Garay (center) cross trains Principal Electronics Technician Marc Bachrach and Principal Electronics Technician Calvin McGill (L-R) on a new anesthesia machine.
Patients admitted to an intensive care unit (ICU) may stay anywhere from a few days to many months. One study examining length of stay in the pediatric ICU population at a hospital in the Netherlands found patient stays ranged from 28 to 546 days.1 Longer stays are harder for everyone—the patients, their families, and even hospital support staff. For clinical engineering, lengthy admissions can make it difficult for technicians to obtain access to equipment, either for routine or emergency maintenance.
Many clinical/biomedical engineering departments deal with this challenge internally, implementing tools, such as RFID tags, and designing policies to ensure PM completion (eg, goals, prioritized schedules, etc). Others develop solutions that incorporate enterprisewide involvement, collaborating with departments to locate missing equipment.
At the Ronald Reagan UCLA Medical Center in Westwood, Calif, an ingenious solution was pulled out of a hat—well, actually, it was more akin to a suggestion box and a meeting—that was not only innovative but was also illustrative of the commitment of the UCLA Health System to its patients and its employees, who are asked for their input regularly.
"We can't implement every suggestion employees put forth—and they realize there are limitations—but we make an active effort to look into each suggestion to determine whether or not we're capable of making those changes," says David Barbrow, assistant director of clinical engineering for the UCLA Health System.
The suggestion tackling the problem of equipment unavailability came from Omar Morales, a lead technician at the Ronald Reagan UCLA Medical Center. His idea was to have the existing paging system used to notify the environmental services department when a patient has been discharged and the room is ready for cleaning to also notify clinical engineering that the room is vacant.
"We're not going to go in the room and work on a piece of equipment while the patient is on it, but we can go in there and make sure all of the equipment—hardware, mountings, and cables—are good to go when the next patient arrives," Morales says.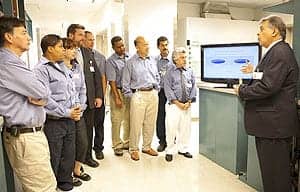 Vigen Esmailian speaks with some of the clinical engineering staff at RRMC. L-R: Alex Guerrero, Carmen McGee, Vesselina Stoyanova, David Barbrow, Armondo Espinoza, Gary Colley, Mannie Inducil, Omar Morales, and Nick Mirzabegian.
The suggestion was examined for feasibility, found to pass, and implemented. Although the focus was improving patient safety through proper equipment maintenance, PM completion rates improved as well. "We did notice an increase in our PM completion percentage because when a piece of equipment needed to get inspected, we would either swap it out or be able to perform the inspection on-site," says Gino Cornejo, a lead technician at the Ronald Reagan UCLA Medical Center.
This spirit of innovation is driven in part by the size, sophistication, and nature of the UCLA Health System; in part through constant exposure to new technologies and resources; and in part because of the commitments to patient care and employee satisfaction. Managed correctly, these drivers result in happy employees, healthy patients, and wealthy bottom lines.
The Suggestion Box
The UCLA version of a suggestion box wisely mines its staff for innovative ways to achieve and surpass the institution's goals. Knowing someone will consider the idea helps inspire too. "You actually have to listen to what your staff says. If you're not taking their input and doing anything seriously with it, then there's not going to be any participation," Barbrow says.
While a certain pragmatism is expected, there are no restrictions: Ideas can be simple or complex (involving no technology or advanced science), they can be departmental or enterprisewide, and they can be employee or patient oriented. Recent initiatives originating with an employee suggestion have included instituting uniforms enterprisewide, going paperless within the clinical engineering department, and modifying biomed working hours to increase flexibility and avoid long commutes. Typically, suggestions with benefits in more than one area have a greater chance of implementation.
The uniform idea, for instance, originated within clinical engineering. Most technicians often work in environments that can ruin clothing, whether the result is stains and/or snags. "It all comes out of the technician's personal pocket when you don't have a department-supplied uniform, so it's an expense issue for each employee, and depending on the type of work they do, some staff see that issue more than others," Barbrow says.
Coincidentally, hospital administration was exploring the idea of uniforms at the same time, and the two paths converged. After some research, the facility implemented a departmental color scheme for easy identification (the biomed department is baby blue) and professional clothing article options selected by the employees. Clinical engineering was one of the first departments to implement the policy.
"From a visitor's point of view, with a standardized uniform, anyone looking at our staff can recognize departmental identity without having to read ID badges," says Vigen Esmailian, MS, BS, director of clinical engineering for the UCLA Health System.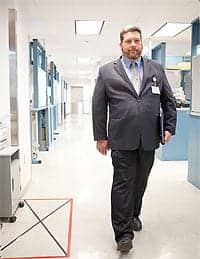 Assistant Director David Barbrow in the clinical engineering department at UCLA Ronald Reagan Medical Center.
Similarly, the employee-inspired effort to go paperless benefits multiple aspects of facility performance across departments, including cost savings, greater workflow efficiency, and less environmental impact. The biomed team is mid-implementation of a new equipment management system that was selected specifically for its paperless capabilities.
"We haven't rolled out all of that paperless functionality yet, but there are a couple of things we're working on that will allow our management reports and documentation sent to the departments we support to be [delivered in] a paperless environment," Barbrow says.
On a more personal level, the technicians are excited about a change in hours that allows them to avoid the long commutes typical of the Los Angeles area. Rather than operating hours of 7 am to 5 pm with a 60-minute lunch for all technicians, the department is now on-site from 7 am to 4 pm with a 30-minute lunch and two shift options (7 am to 3:30 pm and 7:30 am to 4 pm). The transition has been fairly seamless to internal customers because the team continues to maintain on-call service. "The bulk of our calls come in the morning," Cornejo says, noting afternoon calls are typically emergencies. "It's decided on a case-by-case basis whether a technician should stay late to complete a call."
Technology as Muse
UCLA technicians are also often inspired by the new technology to which they are constantly exposed. As part of a large and respected academic medical system, the team may be called on to assist with biomedical devices used in clinical trials and in the evaluation of new technologies for purchase.
The team frequently works with the investigational review board on devices not yet approved for marketing or laboratory tested. "This is where a lot of machines get their start," Morales says. "They bring the device here, we check it out, and we make sure it's good enough for use in the medical environment, which has a lot of requirements."
UCLA was one of just a few hospitals in the nation involved in the trial of the AbioCor replacement heart from AbioMed, Danvers, Mass, which was approved by the FDA in 2006. "Because it's an implantable device, we were not involved in its safety checks," Barbrow says, noting that the team did work with the tools used to program the system as well as the data transmission. "The device communicates wirelessly, and it happened to be on the same frequency as our internal [wireless] phones at the time, so we had to shut down those phone systems during the trial," Barbrow says.
Whether or not the biomed team will handle the service and maintenance of new technology in-house—a decision made on a case-by-case basis—the devices become a part of the organization's equipment management program. "We oversee the service of the equipment: we enter it into the equipment management program; we track the schedule for service, repair, or preventive maintenance; and we call the vendor out when necessary," says Rafael Garay, lead technician at Santa Monica-UCLA Medical Center and Orthopaedic Hospital in Santa Monica, Calif.
Most often the newer devices are not field serviceable for a variety of reasons, such as the sophistication of the technology. Examples include the Stereotaxis Niobe magnetic navigation system from Stereotaxis Inc, St Louis, and the da Vinci surgical system by Intuitive Surgical Inc, Sunnyvale, Calif. If training, tools, and time are available, however, the clinical engineering team at UCLA Health System will handle service in-house.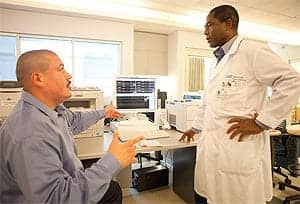 Lead Technician Gino Cornejo (seated) cross trains Senior Electronics Technician Chris Soli on the operation of the GE CIC Pro central station at RRMC.
"There are a few factors to be considered," Esmailian says. "One is the competency of staff—you need the proper talents in the right numbers before committing to support an area. We don't commit to provide support until we're assured we have proper resources for around-the-clock, 24/7 coverage. Two includes proprietary issues, such as software [the vendor] may or may not be willing to share with accounts. Three is the ability to acquire the capital equipment needed for the servicing."
Sometimes, the testing devices can be prohibitively expensive. The number of medical devices to be used in-house, therefore, also plays a role. "How many of the systems we have in our inventory will impact whether it will be cost effective for us to maintain that [service] in-house or if it would be less expensive to have it under a contract," Morales says.
In with the New
In some cases, at least part of this evaluation occurs before the equipment is even purchased, during research and demos. At UCLA, clinical engineering has a role in capital acquisitions from the first steps in the purchasing process.
"As our procurement and strategic sourcing department considers new equipment, we work closely with them to make sure that if we do have any standardization of a certain product, we continue to retain that," Esmailian says. "And before any acquisition, we work together to ensure that things do not fall in the cracks on either the purchasing side or the clinical side."
However, even with standardization and user preferences taken into account, the hospital is always open to innovative products. "There's a comfort level for a lot of people [with older technologies], but we're also willing to try something new and cutting-edge," Cornejo says.
With the UCLA health care system undergoing renovation and construction projects at its various facilities, there have been plenty of opportunities to bring in new technologies. "Most of the time, devices are replaced with new equipment in the new building or wing," Garay says. Current technologies are typically abandoned because they are obsolete, parts and/or service are no longer available, or they are simply replaced by a better technology (new or not).
For instance, the UCLA Health System recently acquired 2,440 Sigma Spectrum, wireless smart infusion pumps with second-generation drug error prevention technology from Sigma International, Medina, NY. The devices were selected after a thorough biomed review of the options. "We took the machines apart and studied them, and, after that, we gave a recommendation on what we thought was the best machine for our institution," Morales says.
Wireless was an advantage, but one that required the aid of the medical information technology services (MITS) department—a collaboration that occurs more frequently today than in the past. "A facility wants to make sure if it chooses the wireless network operation of a drug library, it assesses its existing wireless network to determine if it has the strength to handle the communication before the go-live," Esmailian says, crediting the successful launch to a very thorough assessment of UCLA's system.
MITS and clinical engineering worked together to network the devices and ensure the latest drug libraries were downloaded. "The extensive drug libraries are vital because we try to stay on top of all the new medical procedures as part of our safety efforts," Morales says.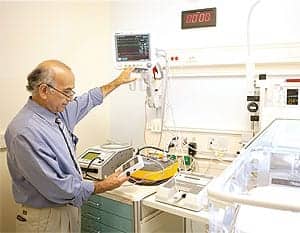 Rafael Garay performs a maintenance inspection on a physiological monitor in the NICU at Santa Monica UCLA Medical Center and Orthopaedic Hospital.
Out with the Old
Making room for the newer, better, and safer means eliminating what came before, and biomeds plays a role here too. In general, construction and capital acquisitions create the need for a lot of collaboration and quite a bit of additional work for a clinical engineering department. UCLA's team has been additionally challenged by multiple and simultaneous moves using different methods over the past decade.
The team played a key role in the move of the Ronald Reagan UCLA Medical Center from one facility into a completely new one. "One day we were not here, and the next day we were," Barbrow says.
However, the transition was not so quick for clinical engineering, which started the checks and operational verification of all the relevant equipment, systems, and networks 6 months before the patient move date. "That gave us a good opportunity to check and verify all the new equipment before it actually went into use," Esmailian says.
At the Santa Monica UCLA Medical Center and Orthopaedic Hospital, where a staged process is under way, the effort has been complicated by more frequent, smaller-scale moves as sections of the building are torn down and rebuilt one by one. "There are multiple moves that have to take place in that process where a department may have to move to three or four different locations over that 5-to-7-year period," Barbrow says.
With each move, clinical engineering assists the affected department with identification of the existing equipment to be relocated and with disposal of the pieces left behind. "Clinical engineering's role is to process the equipment out of the system, which can include a lot of devices," Garay says. "We need to delete them from our inventory, remove tags, handle disposal, etc." Typically, old equipment is either archived or declared electronic waste (e-waste).
The Customer Is Always Asked
Ultimately, all of this effort is undertaken to improve patient care, but UCLA is also concerned with patient feelings. The system has implemented patient satisfaction initiatives, such as the C-I-CARE program, which outlines guidelines for patient-physician communication designed to improve the patient experience. "We call it the UCLA way," Esmailian says.
The UCLA Way: C-I-CARE
C-I-CARE is a provider-to-patient method of communication with standard scripts designed to improve the patient's comfort and experience. UCLA's version advises staff take the following approach with every patient encounter:
Connect with the patient by addressing him or her as Mr, Ms, Mrs, or by the name the patient prefers.
Introduce yourself and your role.
Communicate to the patient what you are going to do, how long it will take, and the purpose.
Ask and anticipate the patient's needs, questions, or concerns.
Respond to patient requests and questions with immediacy.
Exit with an explanation for the patient on what to expect next.
—RD
The system has been in place long enough to become second nature for employees. "It's not something that takes place occasionally. We have changed the service we provide to our internal customers and patients," Esmailian says, citing tools that include assessments, rounds, education, and measurements as key to the effort.
Even biomed technicians, who do not generally have a lot of patient contact, will need to introduce themselves to a patient every "once in a while." The C-I-CARE protocol can help to ease the biomed's potential discomfort and provide feedback for his or her performance, as well as, and perhaps more importantly, ease the patient's discomfort. The effort is working. The UCLA Health System participates in the Hospital Consumer Assessment of Healthcare Providers and Systems (HCAHPS), the voluntary national, standardized survey of hospital patients' perspectives of their care. Over the last few years, UCLA has climbed in the rankings. For the time period between October 2008 and September 2009, the average overall patient rating for all US hospitals reporting to HCAHPS was 66% and all California hospitals 62%. Santa Monica-UCLA Medical Center and Orthopaedic Hospital was rated at 62%, and Ronald Reagan UCLA Medical Center performed even higher at 79%.2
These numbers indicate the suggestion box and spirit of innovation are working and that UCLA Health System's efforts to improve the patient experience are succeeding. Early to ask and early to try have made the institution healthy, wealthy, and wise.
---
Renee Diiulio is a contributing writer for 24×7. For more information, contact .
References
Naghib S, van der Starre C, Gischler SJ, et al. Mortality in very long-stay pediatric intensive care unit patients and incidence of withdrawal of treatment. Intensive Care Med. 2010;36(1):131-136.
US Department of Health and Human Services. Survey of Patients about Their Hospital Experiences Graphs. Available at: www.hospitalcompare.hhs.gov/Graphs/hospital-Graph.aspx…. Accessed July 30, 2010.
The UCLA Health System and Clinical Engineering Team at a Glance
The UCLA Health System is comprised of the:
Ronald Reagan UCLA Medical Center, Westwood, Calif, which offers 520 private patient rooms and employs 1,500 full-time physicians and more than 2,500 support staff;
Santa Monica-UCLA Medical Center and Orthopaedic Hospital, Santa Monica, Calif, an acute care medical center with 279 beds;
Resnick Neuropsychiatric Hospital at UCLA, a 75-private-patient-room institution within the Ronald Reagan UCLA Medical Center offering a continuum of psychiatric services across the life span;
Mattel Children's Hospital UCLA, also located within the Ronald Reagan UCLA Medical Center and incorporating a 90-bed inpatient unit (counted among the total 520 beds at Ronald Reagan) and an outpatient children's health center;
UCLA Medical Plaza, Westwood, Calif, which includes more than 80 specialty clinics and a wide range of outpatient services; and
UCLA Medical Group, Westwood, Calif, composed primarily of UCLA faculty physicians of the David Geffen School of Medicine at UCLA.
The health care teaching institutions of UCLA include:
David Geffen School of Medicine at UCLA;
UCLA School of Dentistry;
UCLA School of Nursing; and
UCLA School of Public Health.
The UCLA Health System biomed team employs 36—five at the Santa Monica-UCLA Medical Center and Orthopaedic Hospital and 31 at the Ronald Reagan UCLA Medical Center.
Between the two sites, there are a total of 30,187 pieces of equipment in the clinical engineering inventory, which includes 6,739 pieces in Santa Monica and 23,448 at the Ronald Reagan UCLA Medical Center. Resources can be shared when necessary and feasible.
UCLA biomeds have one of four titles:
Senior radiographic equipment specialist;
Principal electronics technician;
Senior electronics technician; or
Technician.
Each has different workloads, with the top senior radiographic equipment specialist carrying the most workload units. Biomeds are assigned to specific areas within different departments for both primary work responsibilities and secondary backup roles. Recently, UCLA added lead technician responsibilities to assign representatives to act as bridges between management and technical staff.
Team experience: "The average number of years of experience with our staff is just under 18 years," says David Barbrow, assistant director of clinical engineering for the UCLA Health System.
—RD