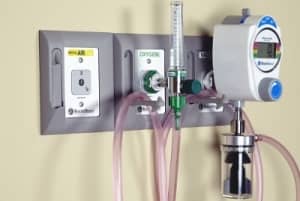 BeaconMedaes has introduced a new Series B Outlet Hook Trim Plate designed to improve gas outlet reliability in high-use areas like emergency and patient rooms, ensuring medical gas is consistently provided to patients. According to the company, in these environments wires and setup items are often draped over flowmeters and vacuum regulators, potentially exposing sterile packages to damage and contamination.
"The problem with these loads is that they can potentially cause leaks in the outlet, costing the hospital in expensive gas loss," said Jonathan Brooks, BeaconMedaes product manager. 
Featuring a retractable hook, the new trim plate simplifies set-up without damaging the equipment or medical gas outlet. The design takes the loads off medical gas outlets to increase their longevity and minimize gas leaks. Constructed to support up to 15 pounds, the hook trim plate can be installed with any Series B or similar medical gas outlet in new construction facilities or can replace existing dress frames. Biomaster, an additive that reduces bacterial and mold growth, has also been integrated into the plates to ensure their protection.
For more information, visit the BeaconMedaes website.