By Eric Morgan
When you hear the phrase "best practices in healthcare," what comes to mind may not be the key areas that directly impact patient care. After all, medical standards and regulations have required healthcare organizations to uphold a businesslike mentality, rather than a patient-focused approach. One key component of any healthcare organization that has underlying benefits to both improve patient care and reduce operating costs, however, is facility maintenance.
Proper maintenance and upkeep requires an organized system to keep track of the day-to-day needs of a facility—which is where a computerized maintenance management system (CMMS) can help. This critical healthcare system gives HTM professionals the ability to proactively manage requests, inventory items, and assets, which in turn can improve patient care and reduce operating costs.
In Maintenance Connection's recently released 2017 Healthcare Facility Maintenance Report, we asked more than 1,000 healthcare technology management (HTM) professionals about their daily operations, how they use a CMMS, and the return on investment (ROI) they've seen from CMMS implementation. Many HTMs weighed in, and the results may surprise you.
Key finding No.1: 37% of biomed teams aren't adequately trained on CMMS technology.
One of the first steps to realizing the most return on a CMMS investment is training and on-boarding for the entire maintenance team. However, the study found that 37% of healthcare maintenance teams weren't adequately trained on the system used by their organization. Without proper training, the team may not understand the importance of work-order tracking for critical assets, inventory control for unexpected emergency requests, or how the system helps meet compliance.
Furthemore, proper CMMS training and implementation leads to true success across the hospital or healthcare facility. In fact, in our 2017 State of CMMS Report, 63% of healthcare pros reported that CMMS implementation helped improve system reliability and reduced downtime.
Maintenance teams who gained the highest ROI from a CMMS have the following three characteristics in common:
They work with business leaders to align CMMS goals and advantages with existing operations and ensure buy in from key stakeholders in the healthcare organization.
They remain committed to comprehensive and continual training beyond the initial implementation phase.
They chose a CMMS provider that has a designated success team that on-boarded their team and helped users define goals, roles, and milestones.
Key finding No.2: 27% of biomed teams have room to improve work-order tracking.
The best CMMS solutions offer these benefits within work-order tracking functionality:
Access to real-time work order information from the field
The ability to send pertinent service request information directly to team members for faster response times
Easy task definition and assignment, with added details such as record instructions, materials, etc.
Full visibility to open work orders across all HTMs
While work-order tracking may seem like a no-brainer for healthcare teams, the study found that more than one-quarter of facilities (27%) are still not tracking all work orders digitally on the CMMS. Across a healthcare facility, work-order tracking helps teams maintain project transparency, improve response times on critical assets, streamline the amount of paperwork needed, and improve patient care.
The report also revealed that 64% of facilities that configure most work orders in their CMMS report strong improvements to service satisfaction.
Key finding No.3: 67% of biomed teams have yet to realize the power of mobile a CMMS.
It's a disappointing finding since a mobile CMMS can help healthcare facilities save time by providing information about the maintenance professional's location and eliminate the need for printouts and stacks of paper-based work orders. Mobile CMMS technologies also increase labor productivity since techs can access work orders, documents, and photos straight from their mobile device for less downtime.
Key finding No.4: Healthcare organizations that perform more preventive maintenance, as opposed to reactive or corrective maintenance, realize stronger ROI on their CMMS investment.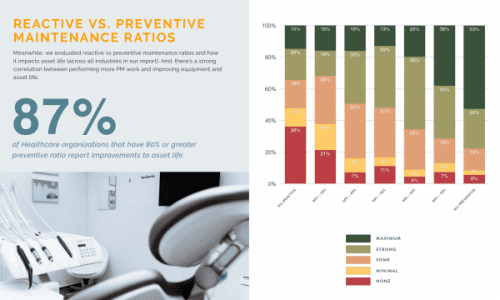 Our report found that 55% of healthcare respondents maintain a 50% or greater PM ratio. In doing so, these organizations decrease asset downtime and reduce costly repairs with PM schedules.
Beyond that, nearly 90% of healthcare respondents that have achieved an 80% or greater PM ratio report improvements to asset life. With nearly all PM procedures in place, these respondents enjoy less downtime and overtime hours, fewer emergency requests, and extended asset life. What's more, that same group of respondents who have an 80% or greater PM ratio report significant cost savings, fueling the idea that more PM equals higher ROI.
Below are other key takeaways from the report:
Forty-eight percent of respondents process more than 500 work orders each month.
Sixty-seven percent realized reduced risk and liability, improved system uptime and reliability, better compliance, lower labor costs, and significant overall cost savings tied to CMMS adoption.
Fifty-five percent indicated reactive maintenance procedures at least 50% of the time—versus PM, which extends asset life, lowers the risk of critical asset downtime, and reduces emergency work orders.
Eric Morgan is the CEO of Maintenance Connection, a Davis, Calif.-based CMMS provider.