Agfa HealthCare announced that, after a thorough due diligence process, Prime Healthcare Services has agreed to purchase 50 Agfa DX-D 100 mobile DR technology units to serve its hospitals.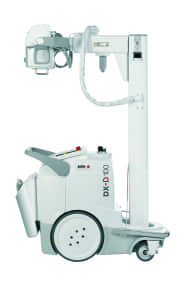 Prime Healthcare is a hospital management company with more than 35,000 employees and staff operating 34 acute care hospitals in 11 states of the US. Prime Healthcare reports that in 2014 it began a competitive evaluation of providers of mobile DR solutions, including Agfa HealthCare. Following a 1-year assessment, Agfa HealthCare was selected as the mobile DR vendor of choice.
According to the announcement from Agfa, it was chosen for the clinical benefits of its Technology Evolution Financing, allowing Prime Healthcare to acquire a minimum of 50 mobile DR systems over a 60-month period. By bundling sales, service, and financing, it enables Prime Healthcare Services to benefit from an inclusive, complete digital mobile solution with equipment and maintenance protection. These units will be deployed in 2015, with the possibility to increase the number of units to 70 or more.
"Agfa HealthCare endeavors to serve Prime Healthcare's mission to provide comprehensive, optimized patient care through the use of our solutions with Musica image quality, radiation dose reduction potential, and productivity advantages with the Agfa mobile DR's workflow-optimized GUI and its RIS connectivity directly from the user interface," Ueli Laupper, DR business director, Agfa HealthCare, said in the announcement.
The DX-D 100 is a maneuverable DR unit combining full mobility with Agfa HealthCare's Musica image processing, which offers good contrast detail and image quality. The result enables high-quality radiology exams to be efficiently performed in mobile environments, including intensive care units (ICUs), emergency departments, operating rooms, or at the bedside, according to the company. The DX-D 100 comes with Agfa HealthCare's intuitive Musica workstation, which is intended to enable technologists to quickly acquire images. The DX-D 100 is available with conventional Gadolinium DR panels, or high-DQE Cesium DR panels to take advantage of potential dose reduction capabilities.
For more information about the partnership and the DX-D 100, visit the Agfa Healthcare website.