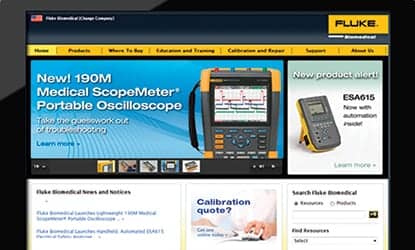 Training App
Fluke Biomedical, Everett, Wash, has released its new training tablet—an app loaded with more than 80 training modules, application notes, whitepapers, and operational guides. The new training tool is a companion for medical device quality assurance and safety professionals. With the training tablet, users can access information whenever they need it, no matter where they are. Fluke will offer the training tablet free of charge on qualifying orders until December 31, 2012. (800) 850-4608; www.flukebiomedical.com.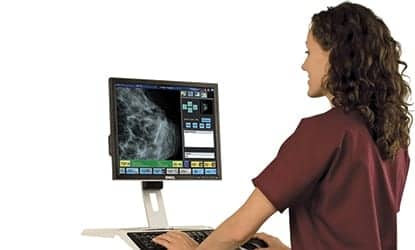 Software, Hardware Upgrades
The extend program from Carestream, Rochester, NY, equips users to quickly and affordably upgrade existing Carestream DRX and Directview CR and DR systems with the company's latest features and functionality. These software and hardware upgrades deliver enhanced image quality, improved productivity, and streamlined workflow. New features support specialty applications such as enabling CR systems to perform mammography exams and adding long-length imaging (including stitching software) for orthopedic exams. An International Electrotechnical Commission exposure index lets technologists see if they are within the acceptable exposure range prior to performing a patient exam, and new management software helps imaging providers meet regulatory requirements for dose reporting. (888) 777-2072; www.carestream.com.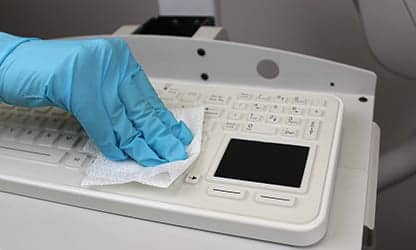 Rechargeable Wireless Keyboard
iKey, Austin, Tex, released a rechargeable wireless keyboard designed for infection control, the SBW-97-TP. Intended for use in operating rooms, nurses' stations, medical carts, and patient rooms, the keyboard's case and silicone rubber keys are fully sealed, washable, and compatible with hospital-grade disinfectants. The rechargeable, wireless keyboard uses QuickPair technology, which transmits to a USB dongle over a 802.11G wireless frequency. The iKey product does not require the user to press any buttons on the dongle or interact with the computer's operating system. This feature allows the keyboard to be moved across various computers or workstations with ease. Powered by a lithium ion battery, the keyboard has a battery life of 2 weeks with regular use. The keyboard takes 5 hours to fully charge and maintains full functionality while charging. (800) 866-6506; www.ikey.com.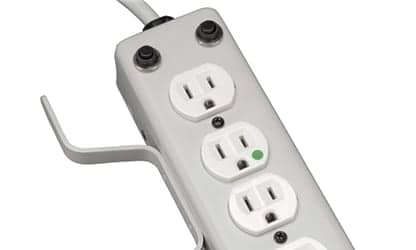 Mounting Clamp and Power Strip
Tripp Lite, Chicago, a manufacturer of power protection and connectivity solutions, has expanded its line of health care solutions to include the PSCLAMP mounting clamp and PS410HGOEMX medical-grade power strip. The mounting clamp and medical-grade power strip feature built-in cord management systems and optional drip shields to provide protection from fluids, prevent cord damage, and reduce tripping hazards in medical applications. The mounting clamps fit diameters from ¾ inches to 2 ¼ inches in a variety of applications. The power strip has four hospital-grade receptacles in an all-metal housing and a hospital-grade plug. (773) 869-1797; www.tripplite.com.