Most patients enter the hospital with some trepidation regarding the physicians and nurses assigned to their case, as well as the treatments and medicines they will receive. A much smaller percentage of patients, however, worry about the array of medical equipment that will be used during their treatment. But the reality is that all medical devices, whether diagnostic or therapeutic, operate with some degree of risk. In most cases, malfunctioning equipment becomes just a minor inconvenience, but in some situations, the outcome can harm a patient. It is for this reason that clinical engineers (CEs) and biomedical equipment technicians (BMETs) need to be cognizant of the factors related to these incidents, particularly if the malfunctions are due to improper servicing or repair of equipment.
The good news is that serious adverse events resulting from a biomed's errors are relatively rare. In fact, true device malfunctions leading to serious accidents are much less common than incidents arising from the technique used when operating the device. Mark Bruley, CCE, vice president, accident and forensic investigation, ECRI Institute, Plymouth Meeting, Pa, performed extensive research on this topic in the late 1990s at the request of the FDA. Bruley found only 241 adverse incidents nationwide, spanning 20.5 years, related to servicing, maintenance, calibration, repair, refurbishing, rebuilding, reconditioning, or remarketing medical devices. "We have seen nothing over the past 9 years that would make us believe that these percentages have changed," Bruley says.
Although it is exceedingly rare for a CE or BMET to face a deposition as a fact witness over a medical device or equipment incident, there is always the remote case that such a situation may arise in one's professional career. But that once-in-a-lifetime chance can still be enough to strike fear in the hearts of many biomeds. In the event that a biomed becomes involved in litigation regarding an incident, proper preparation is the key to surviving a deposition or court appearance. "If a biomed is deposed, he or she should be guided by what their attorney and risk manager comment on," Bruley says. "The important thing is knowing what you can and cannot say."
The following guidelines are recommended if a biomed is deposed:
Be prepared. Read all records carefully, taking as much time as needed to review the case. Although most of the questions at a deposition pertain to the specific incident, be prepared to answer questions about your credentials and aspects of your work related to the medical device that is the subject of the lawsuit.
Don't answer a question unless you understand it. If a question is unclear, ask the opposing attorney for clarification and to rephrase the question, if necessary.
Be concise and to the point. Many questions can be answered with a simple yes or no. Respond directly to the question and do not digress.
Refrain from using technical language. Use plain language to communicate how things work. Do not use technical terms or acronyms that you would use under normal working situations.
Relax. Pause and take a breath before you say anything. Take as much time as you need, and take a break if you need one. In a verbal deposition, there is no record of the amount of time taken to answer a question.
The Best Protection
Instead of worrying about the risk of contributing to an adverse incident, biomeds should focus more on following the appropriate policies and procedures to ensure that malfunctions do not occur, or if they do occur, taking the appropriate steps to protect their liability as well as the institution's. Performing routine inspections, maintenance, and repairs (based on manufacturer guidelines and the recommendations of expert organizations such as ECRI) will protect biomeds from any personal liability in the event of a lawsuit.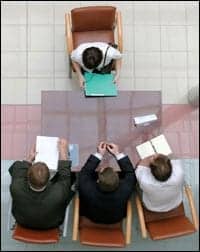 Although it is rare for a CE or a BMET to face a deposition as a fact witness over a medical device or equipment incident, preparation is key, and knowing what you can or cannot say.
Strong communication between the clinical/biomedical engineering and risk management departments is critical in preventing serious accidents involving equipment maintenance issues. Bruley cites a case in which a pediatric patient received a burn in the mouth during a tonsillectomy. The procedure involved two separate devices: a suction coagulator and the electrosurgical unit (a piece of capital equipment). The risk manager filed the report, claiming a problem with the electrosurgical unit, but did not obtain the biomed's assessment of the situation. If the risk manager had communicated with the biomed, he would have learned that the problem occurred with the suction coagulator, not the capital equipment. "It's extremely important that the biomed and risk manager work closely together to find out what went wrong with a device and then determine ways to implement practices that would prevent more serious incidents from occurring in the future," Bruley says.
Bruce Hyndman, MSBE, PE, director of engineering services and safety at Community Hospital of Monterey Peninsula, Monterey, Calif, points out that although the number of medical errors involving equipment is a relatively small percentage compared with medication errors, he does stress that they are not insignificant. According to Hyndman, an industry veteran with more than 35 years of experience, there are instances in which biomeds could conceivably make a mistake by not reinstating a safety or control device during a functional testing procedure. For example, if a technician does not restore the energy storage device that was disabled while testing a defibrillator, the defibrillator would fail the next time it is needed. "In order for the caregiver to perform the resuscitation on the patient, they would have to find another defibrillator, which would cause a delay and could contribute to the death or injury of the patient," he explains.
In other cases, equipment testing may require that specific safeties be bypassed. For example, most infant incubators have a primary thermostatic control system as well as a secondary thermostatic safety system, which is designed to cut the power of the heating device if a specific temperature is exceeded. In order to check the secondary thermostatic system, one needs to disable the primary thermostatic system.
"If the biomed fails to put the primary thermostatic system back to its normal condition after the testing procedure, it could contribute to an incident that is harmful to the patient," Hyndman says.
The Importance of Investigation
One of Hyndman's biggest concerns is when a biomed makes a determination that a piece of equipment is working without taking the investigation one step further. "When a piece of equipment seems to be working properly, the first thing that should enter the biomed's mind is that something else is causing the problem, whether it involves the disposables, the environment, the patient, or a combination of elements," he says. "One must get involved in solving the problem at the root cause in order to prevent larger problems down the road."
Bruley concurs that the key to solving many of these device problems is to look at the entire equipment system that was utilized, not just a single device. For example, Bruley recalls a recent case in which a catheter was blamed for causing a heart attack in a patient, however, it turned out that the catheter was working perfectly fine but the pressure transducers connected to the physiological monitor were miscalibrated. To make matters worse, the risk manager was handling the report independently of the biomed, yet the biomed understood the true cause of the incident. "So even for disposables, we recommend that biomeds be included in the review process to determine whether the situation involved the disposable or the device the disposable is connected to," Bruley says.
Confusion also occurs when some pieces of capital equipment, such as anesthesia machines, heart/lung bypass machines, and radiographic equipment, are owned by different entities. For example, the hospital may own some of this equipment but subcontracted physicians' groups may own other devices. For institutions with this arrangement, Bruley stresses that it becomes particularly important to make sure the equipment from the outside group is included in the inventory for routine inspection.
In some instances, medical device incidents occur due to improper record keeping. For example, Bruley was asked to perform a competency review of a hospital's biomed department due to a fatal accident involving a child who had been connected to a perfusion pump. Specifically, the perfusion pump had a broken guard over a switch, which caused the pump to stop working. In addition, the investigation revealed that some of the heart/lung consoles in service had corrosion on the electrical connectors. During his investigation, Bruley found that the hospital system had recently replaced the hospital's internal biomedical engineering department with an independent service provider. Bruley discovered that when this new group of biomedical engineers and technicians were brought into the hospital, they did not review past records on equipment needing servicing. Since attorneys look for evidence of improper inspection, calibration, or repair of medical equipment as part of a legal investigation, it becomes critical that proper inspections and preventive maintenance are enforced, even if there is a restructuring of a clinical or biomedical engineering department.
Recall Management
The acquisition of equipment can also be a problem for a biomedical engineering department if recalled devices are not removed from service. "To protect their hospitals' liability, biomeds play an integral role in determining if a recall is going unaddressed or specific recommendations are not being followed," Bruley says. One of the best examples of this occurred several years ago at a renowned hospital when defective bronchoscopes (that caused infections in patients) were still being used even though they had been recalled. The recall report had been buried under paperwork on a desk near the loading dock of the hospital. If a device continues to be in service even though it was recalled, and it causes an injury or death, biomed departments can become involved in the legal investigation.
Although the FDA publishes regular reports on recalls and medical device accidents, many hospitals also subscribe to ECRI Institute's Tracker System, a software-based program that provides electronic distribution and an electronic repository of product recalls, field corrections, product hazard alerts, and actions taken by institutions to remedy applicable alerts/recalls. Verified information from ECRI Institute, FDA, manufacturers, and other sources is sent directly to appropriate staff throughout the hospital. The system also can be customized for different institutions. In addition, ECRI Institute's free Medical Device Safety Reports Web site (www.mdsr.ecri.org) is a repository of medical device incident and hazard information independently investigated by ECRI Institute.
Protecting Evidence: The 10 Required Steps
Bruce Hyndman, MSBE, PE, director of engineering services and safety at Community Hospital of Monterey Peninsula, Monterey, Calif, and Marvin Shepherd, PE, FACCE, safety consultant for Devteq Consulting, Walnut Creek, Calif, recommend that the following 10 steps be taken when a medical device malfunction occurs:
Sequester the device.
Record all pertinent serial, model, and catalog numbers.
Label the device immediately so everybody knows it is protected.
Secure all the disposables and accessories used with the device.
Secure all packaging associated with the device and accessories. If packaging has been disposed, lot numbers and other important information would be unattainable.
Protect accessories and devices properly for infection control.
Photograph, label, and take accurate notes of the position and condition of all control settings.
Avoid losing any internal memory on the device.
Do not disconnect tubing, wiring of any accessories, or disposables connected to the unit.
Make sure the investigation is completed before repairing and putting the device back into circulation.
—CD
This information was obtained from the forthcoming book, Practicum for Biomedical Technology and Management Issues, edited by Les Atles, with contributions by Bruce Hyndman and Marvin Shepherd.
According to Hyndman, all hospitals have some type of legally protected risk identification process, but it varies among institutions. "In most cases, the device is taken out of service and is sequestered. The biomed then tests the device and fills out a work order, which states that it has been tested," he says. The risk manager or nurse manager then determines whether they need to continue to sequester the device. ECRI also offers an action plan for equipment accidents, which can be downloaded at www.mdsr.ecri.org.
More serious incidents require immediate action. The institution's risk manager and clinical engineers are usually called as first responders. Specific steps should be taken to ensure that the appropriate information is obtained. To preserve evidence and possible exhibits in legal proceedings, it may be necessary to consult an organization such as ECRI Institute, an attorney, the hospital insurer, or the manufacturer before moving ahead with the investigation. The Safe Medical Devices Act of 1990 requires that all incidents resulting in death or serious injury (or the probability of death or a serious injury) be reported to the manufacturer and/or the FDA within 10 days of the occurrence. Many states, including Pennsylvania, New York, and the state of Washington, require that these incidents be reported at the state level as well.
In the 35-plus years Hyndman has been working in the biomed field, he has never appeared as a witness in a case from any of the hospitals where he has been employed, and he knows only two colleagues who have been deposed over an equipment issue. However, even though he believes that biomeds should not become overly concerned about personal liability in such cases, he does stress that they must collaborate with other members of the health care team to ensure patient safety. "It's critical that biomeds become involved with others in solving problems at the root cause," Hyndman says. "It's not appropriate to say, 'I did my part by checking the equipment, and that's the end of my assignment.'"
---
Carol Daus is a contributing writer for 24×7. For more information, contact .