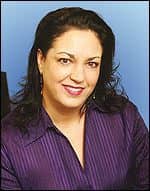 Julie Kirst, Editor
As we enter the fall season, generally associated with quieting down, the Radiological Society of North America (RSNA) explodes into action by offering what it calls "the world's largest annual radiology meeting." Held each year at McCormick Place Convention Center in Chicago, RSNA will conduct its 96th Scientific Assembly and Annual Meeting from November 28 through December 3.
This year's theme, "Personalized Medicine: In Pursuit of Excellence," reflects the medical advances that trend toward treating individuals based on their molecular structure. With more than 4,000 scientific papers, posters, and education exhibits and 300 refresher courses, the myriad offerings include a new section this year that will cover hot, controversial, and special interest subjects, such as "High-Intensity Focused Ultrasound: Myth or Reality?" that will review the fundamental principles and techniques of MR-guided focused ultrasound—MRgFUS—ablation and discuss its potential benefits and possible complications. Among other lecturers, President Bill Clinton will present a special address on Tuesday, November 30.
In addition, and of special interest to BMETs and CEs, RSNA features a technical exhibition spanning three halls that will feature 700 of the leading health care companies from around the globe, including companies at the forefront of medical technology. As a result, many members of clinical engineering departments make the trek to Chicago to view the latest and greatest in imaging equipment.
If your schedule and budget preclude you from attending, 24×7 will feature some of the latest medical device releases in the weekly editions of the Weekly Jolt. If you have not signed up for our free e-newsletter, you can do that easily right here, or go to the home page and look in the media section for the newsletter section.
The benefits of attending regional and national association meetings reach into all areas of work. Finding out about new devices, seeing actual demonstrations of how they work, and being able to ask the manufacturers questions places biomedical engineering departments in an advisory capacity in their hospital, enabling them to make informed recommendations to clinicians and acquisition committees. Educational sessions offer priceless opportunities for growth in lean economic times, and networking with other members of the profession extends your technical support network.
Numerous regional associations that cater to the needs of their individual members abound, and I encourage you to look into meetings and symposiums in your area. If you can't find one, talk to your coworkers and explore starting your own. The Focus On section of our September issue offers fantastic tips from members of the community who have been instrumental in starting and running successful associations. You may find you can partner with your employer or departments in neighboring facilities to secure your meeting space. OEMs and other service providers may also help with educational presentations or dinners. You may not find this the easiest project, but I'm certain you will find it worthwhile.
If you have ideas you'd like to share about starting an association, blog about it with us. And, if you do make it to RSNA, we'd love to hear about the exciting developments you saw. Log onto our blog and let us know what is at the forefront of imaging.
Julie Kirst