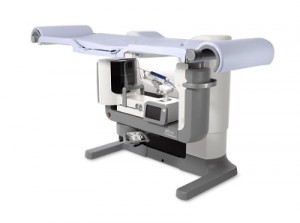 Hologic has launched the Affirm prone breast biopsy system, which recently received FDA clearance. Offering both 2D and 3D image-guided breast biopsies, Affirm enables radiologists to target lesions found during Hologic's Genius 3D mammography exams. The CE-marked system also features a large field of view, as well as increased automation.
Pete Valenti, Hologic's division president for breast and skeletal health solutions, says the launch of Affirm is a significant milestone in the biopsy devices market. "We identified a need for a minimally invasive, stereotactic breast biopsy technology that marries the advances in 3D mammography exams with the prone positioning many doctors prefer, and are excited to bring this new generation prone biopsy system to market."
With the patient lying prone, the biopsy system provides 360-degree access to lesions using an integrated C-arm. Approach angles can be varied with minimal movement on the patient's part, as the patient is supported throughout the procedure. In addition to these advantages, the prone positioning facilitated by the system prevents patients from directly seeing the biopsy needle.
"Until now, we've been struggling to handle complex biopsies for subtle lesions or faint calcifications that we are only able to identify using 3D mammography exams," says Alejandro Tejerina, MD, a breast specialist at the Madrid, Spain-based Centro Patologia de la Mama. "As an early testing site for the Affirm prone biopsy system, we've had the opportunity to perform many biopsies using this technology and are pleased to report that this new biopsy table has helped to solve our challenges." With Affirm, the center is able to visualize more tissue, he adds, and has better access to challenging lesion locations.
For more information about this system, visit Hologic.