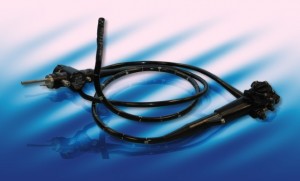 ECRI Institute has responded to reports of multiple outbreaks of so-called "superbug" carbapenem-resistant Enterobacteriaceae (CRE) infections at Los Angeles area medical centers by releasing a new high-priority hazard report that documents appropriate disinfection procedures for duodenoscopes.
The devices, which have been linked to patient infections at Cedars-Sinai Medical Center and Ronald Reagan UCLA Medical Center, are used to diagnose and treat a variety of conditions of the gall bladder and pancreas with endoscopic retrograde cholangiopancreatography (ERCP) procedures. The scopes are also extremely difficult to clean.
The ECRI report advises the use of scope culturing as a key step in reducing the risk of CRE infections. The document is freely available to healthcare professionals on the ECRI website.
"Our recommendations call for timely action and executive level attention," Jeffrey C. Lerner, PhD, president and chief executive officer of ECRI Institute, said in the statement. "They will likely require additional costs and changes in workflow and processes."
According to an announcement on ECRI's website, the report includes guidelines for baseline and surveillance culturing. The organization urges hospitals to implement regular CRE surveillance through duodenoscope culturing, regardless of which reprocessing method they use, such as high-level disinfection using a liquid chemical germicide or sterilization using ethylene oxide. Though such procedures are likely to pose significant challenges to healthcare facilities, the Institute insists that such steps are critical to patient safety.
"Minimizing the risk of infections associated with ERCP scopes is extremely difficult and it will take multiple approaches to reduce the likelihood of contamination," said James P. Keller, MS, vice president of health technology evaluation and safety at ECRI Institute.
The latest outbreaks may not surprise close readers of ECRI's Top 10 Health Technology Hazards list. Problems associated with endoscope reprocessing have appeared on the association's list for the past 6 years. The issue is currently ranked fourth on the 2015 hazards list. Although managing the devices poses difficulties, ECRI affirmed their importance in the healthcare setting.
"We believe that despite their infection risks, ERCP endoscopy procedures are vital and discontinuing them because of this risk would be more harmful to patients," Lerner said.