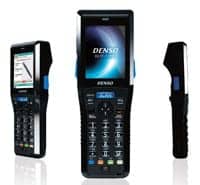 DENSO ADC has released a new line of handheld barcode scanners whose sensors process data faster than lasers. The BHT-1300 series 1D and 2D wireless devices have been revamped to offer a hardier design alongside a 3-year warranty.
The terminals are 15% smaller and lighter than their predecessors, with curved keys that permit navigation by gloved hands. The LCD display's wide viewing angle allows for quick readability even in bright sunlight, and the 2D model offers 360-degree scanning capability, potentially reducing use time by up to 30%. Both models have been designed to withstand crash tests on concrete from a height of 2 meters up to 30 times.
The scanners' wireless system supports the latest IEEE802.11b/g/n standards, while their WPA/WPA2 security network ensures data protection. With batteries that support up to 28 hours of continuous use, the devices also have the longest operating time in their class.
For more information, visit the Denso website.