All photos courtesy of TriMedx.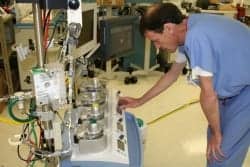 Reducing reliance on service contracts by leveraging the on-site expertise of techs can help reduce downtime and decrease costs. (Photo courtesy of TriMedx)
What issues keep you up at night? If you're like many health care executives, it is pressure with regard to revenue, falling reimbursement rates, and expense control. When faced with issues this large, it is easy to seek out stopgap measures that will save your hospital money in the short term. By contrast, the following steps will deliver long-term impact on medical equipment procurement and maintenance costs, and, if implemented properly, will boost your revenue—all by standardizing your clinical engineering department. These actions are also "sustainable," and by that, I do not mean "green." By taking a long-term view, you can make real changes that equal years and years of savings.
Consider what our company believes to be the seven secrets to significant savings within your clinical engineering department:
1) Reduce reliance on medical equipment service contracts
A survey conducted by TriMedx, a health care equipment management firm, revealed that approximately 60% of ambulatory surgery centers (ASCs) rely on expensive service contracts for medical equipment maintenance. For original equipment manufacturers (OEMs), service contracts are high-margin profit centers, and reducing your reliance upon them often means huge savings. If possible, opt for short-term maintenance and warranty programs of less than 2 years. If there is a consistent flow of equipment repairs, consider developing an in-house team to make repairs, thus eliminating reliance upon the OEM.
This approach can also improve response time, reduce downtime, and decrease costs by leveraging the on-site expertise of individuals more familiar with the device and its business purpose for the hospital. If your hospital or ASC is already locked into a long-term service contract, weigh the financial impact of breaking the contract (possibly through an out clause). You may find it is worth it to take a financial hit to save money in the long run by using in-house clinical engineers for maintenance and upkeep.
2) Control your vendors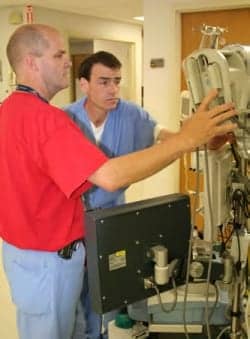 No matter what route you take, it is important to have a training plan in place, as it is often a factor in employee recruitment and retention. (Photo courtesy of TriMedx)
For health care organizations, vendors such as OEMs and third-party providers can present complex relationships. They are at times both friend and foe. They make capital equipment planning recommendations, and yet their success is based on whether you buy their equipment and service contracts. They compete with other service providers for your business, yet also compete with your in-house clinical engineering team. One way to effectively manage your vendors is through demand labor, also called a break fix or time and materials—which means no contract but repair work on a transactional basis. Without a contract, you may save money, but it is important to scrutinize invoices for accuracy. Billing errors or duplicate bills, while not malicious, do occur. Designate one person at your organization to review all vendor invoices.
3) Manage equipment throughout the life cycle
Equipment life cycle can be broken down into two phases: Acquisition cost and maintenance cost. Both are important and must be considered equally when determining overall life cycle costs. Capital is not as easy to come by as it once was, so breaking down costs over the life cycle is vital to keeping spending minimal. Consider the following:
Capital sourcing: Use an unbiased third party or internal employee, if possible. Develop a request for proposal (RFP) template and common criteria with which to judge each OEM consistently. Your clinical engineering department should be able to provide you with a service history for that piece of equipment, as well as the response times of OEMs vying for your purchase. It is also helpful to know your history of negotiation with various OEMs to determine who will give you the best deal for the long term.
Site preparation/installation: Can your physical space handle the equipment you are considering? How will you get it in the door? Have you considered floor loading, lighting, electrical, and water access? You must carefully prepare the physical site to ensure your new equipment will be installed properly and serve its given purpose.
Incoming inspection/acceptance testing: How will you make sure the equipment is functioning as it was sold to you? Ask an independent agency to test it.
Warranty: Typically, OEMs sell a 1-year warranty, but it is possible to shorten or even eliminate the warranty if you have a skilled clinical engineering staff who can manage repair and maintenance. Or, you can extend the warranty but forgo service contracts.
Preventive maintenance (PM): A clinical engineering team can schedule PMs after hours to ensure minimal equipment downtime (and maximize patient throughput).
Repair: How will you handle repairs? As we previously discussed, an in-house individual or team could represent a smarter (and many times smaller) investment than an OEM service contract.
Replacement criteria: How will you decide when it is time to replace a piece of equipment? Decide now what quantitative measures you will use to ensure consistency. Consider factors such as age, physical condition, whether the device is living up to expectations, whether it has become obsolete, and whether other equipment will better meet your needs.
Disposal: When the equipment has completed its life cycle, how will you dispose of it? We recommend donating. It is a tax write-off, and there is an immense need for medical equipment in hospitals in third-world countries.
4) Develop and recruit technical expertise
By now you know that developing your own in-house team, residing within your clinical engineering department, is a smart financial decision. A group of technicians dedicated to your hospital's equipment only means increased uptime through faster response rates. You must decide, though, how you will keep this team trained and informed. You can go back to the OEM for specialized training, but it is often cost-prohibitive. A more feasible route may be to pursue vendor-neutral training events or conferences hosted by clinical engineering trade groups. This allows an opportunity for training, as well as networking. If you have a relatively new team, classes through a local community college may also help teach fundamentals of working with medical equipment. Regardless of your decision, it is important to have a training plan in place as it is often a factor in employee recruitment and retention.
5) Mitigate risk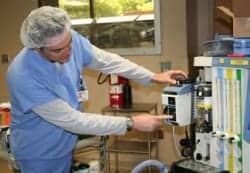 A clinical engineering team can schedule PMs after hours to ensure minimal equipment downtime and maximize patient throughput. (Photo courtesy of TriMedx)
Forget about everything else that has been mentioned for just 1 minute. Truly, the number one task of a clinical engineering department is ensuring that equipment is safe and legal. This is not just a patient safety issue, but a legal issue (which can become a financial issue). Equipment must be kept according to standards put forth by the Accreditation Association for Ambulatory Health Care (AAAHC), The Joint Commission, and other accrediting organizations. Also, consider the expense or financial risk of medical equipment—how does it fit into the operational budget? Every dime you save on expenses goes straight to your bottom line.
6) Collaborate with clinical staff to optimize medical device utilization
To ensure equipment uptime and overall clinical engineering department effectiveness, there must be a culture of trust between the clinical engineering staff and the rest of the hospital. Decide now how your clinical engineering staff will keep a pulse on the state of equipment in each department. Some have found great success with rounding, or simply walking around to each department and talking about equipment issues. Some prefer e-mail, while others would rather talk with colleagues in the lunchroom. Web-based satisfaction surveys are also effective. Whatever the method, it is crucial to maintain open communication with everyone from associates to the CEO. Relationships are the ultimate driver of success.
7) Measure, monitor, and report your performance
Search our website for other management articles.
Performance metrics are critical to evaluating equipment over its life cycle, as well as the effectiveness of clinical engineering departments. They can help you answer questions like, Are we spending what we forecasted? Are we repairing too often? Are we spending too much money on repairs? Reporting also ties into safety: To maintain regulatory compliance with the AAAHC, The Joint Commission, or other accrediting bodies, your reports must be up-to-date at all times, should an inspector check in. As we touched on previously, clinical engineering teams should rely on metrics, such as equipment uptime and service response time, to communicate their value and worth to the organization. After analyzing your performance metrics, be transparent and share what you are doing well, what you are working on, and what your plans are for moving forward successfully.
---
Joe Skochdopole, MBA, MS, BS, CCE, is the senior director of operations and system support for TriMedx, Indianapolis. For more information, contact .