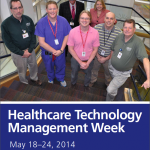 In conjunction with Healthcare Technology Management Week 2014, AAMI will hold a free webinar titled "Exploring the HTM Career Ladder" on Wednesday, May 21, at noon Eastern time.
The session will explore a new career ladder model developed by AAMI as a guide for those interested in career advancement. According to the organization, it is intended for a variety of desired job roles. These can include "management or leadership positions, a specialty role, or a purely technical career."
Karen Waninger—a member of AAMI's Technology Management Council (TMC) and director of clinical engineering with Community Health Network in Indianapolis—will lead the session.
Read more on the AAMI website or register now to attend the HTM Week webinar.